The premier HAF solution for councils
Engage hard-to-reach families
Fund more local providers
Make DfE reports a breeze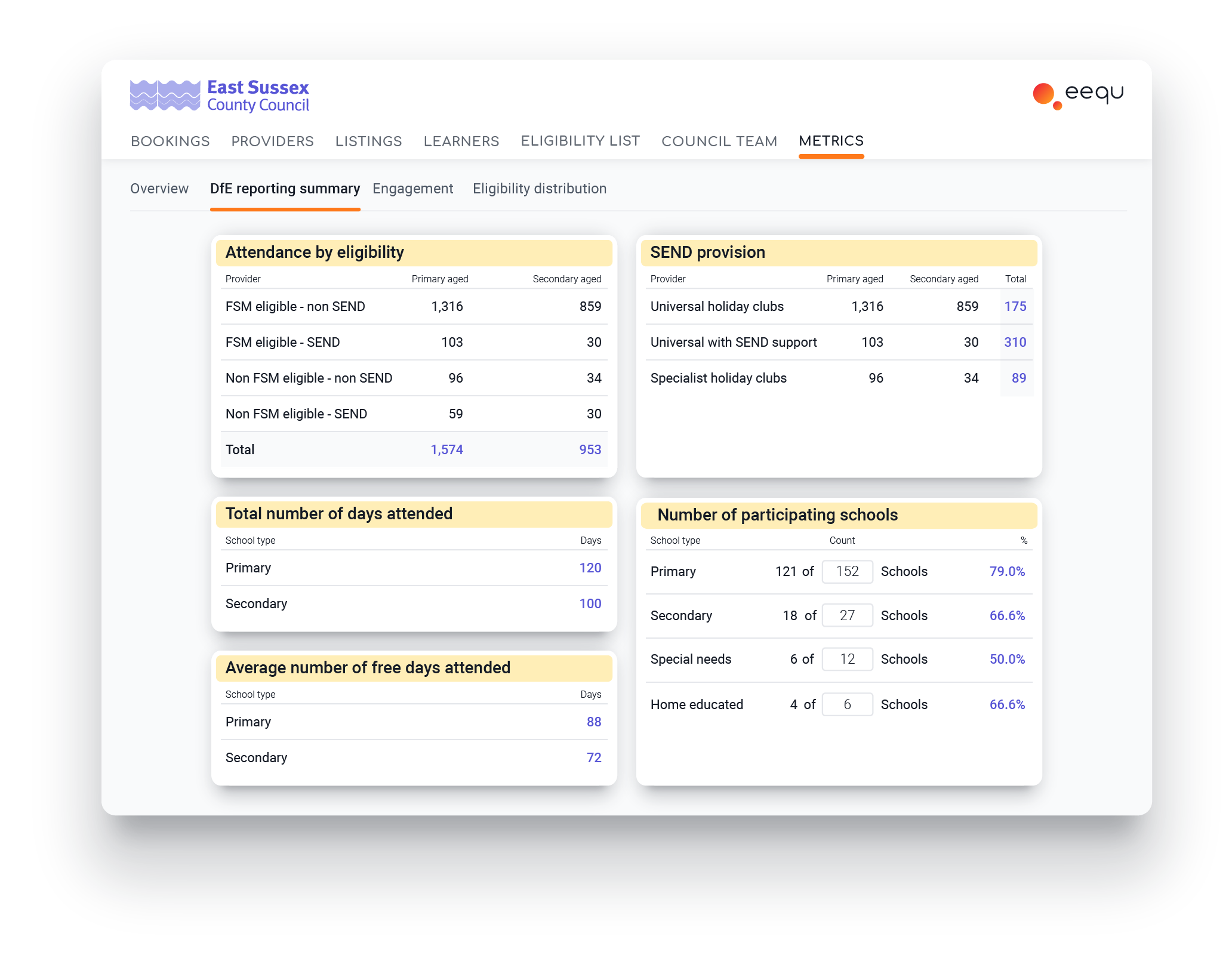 Loved by councils and providers everywhere
Community platform
Supercharge your community activities
Connect the dots between all providers in your area and all families who need them.
Distribute funding more widely. Create choice and diversity. Increase quality and engagement.
Leverage your HAF funding and go beyond free school meals to transform the life of your community.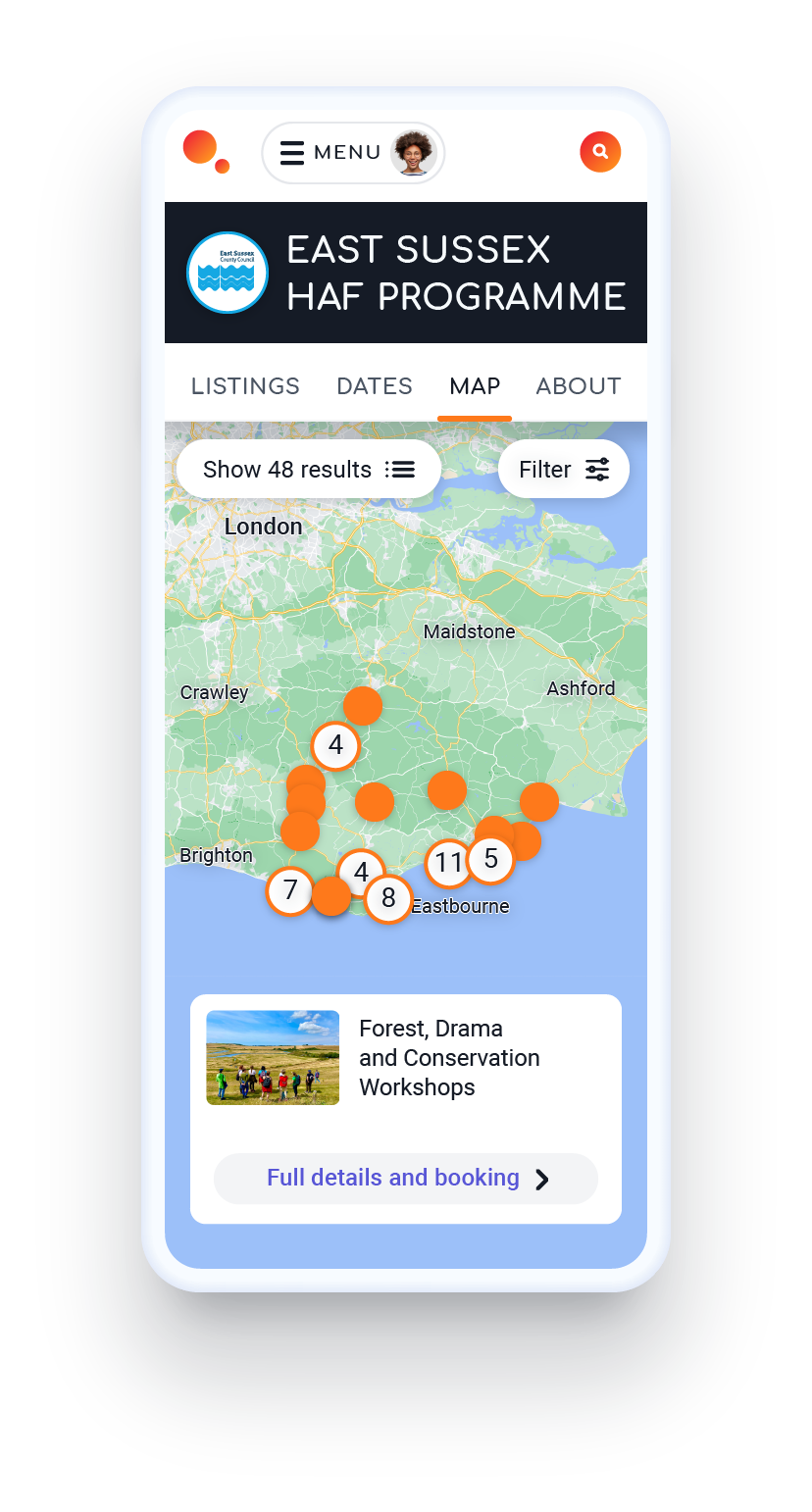 Unified community platform
A flexible suite of features designed for HAF
We automate eligibility checking, leaving you to offer discretionary places. Providers make final booking approval.
Eequ provides integrated payments and childcare processing so that you can make more activities available.
You set your eligibility categories, view engagement, school participation, provider funding and much more.
We deliver beautiful email notifications to guide low tech parents and help them manage their bookings.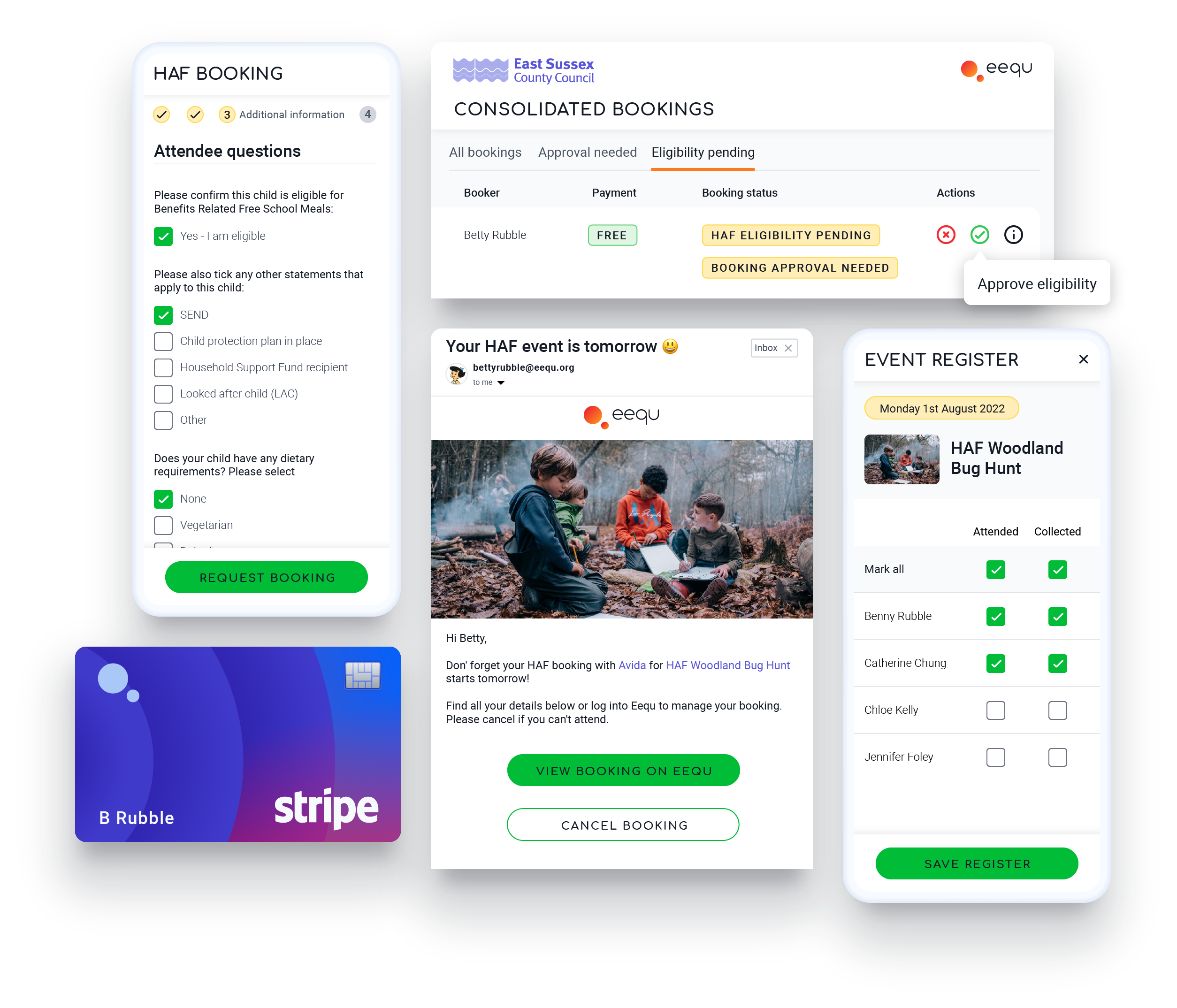 Why councils love Eequ
Shining testimonials
Eequ has transformed our ability to monitor bookings and engage with our HAF audience. It has provided a platform that flows easily, is aesthetically pleasing and dispels the myth of clunky booking systems. It has also been very warmly received by our providers and this is thanks to the team's responsiveness and drive to continually evolve and improve their service.
Our experience of Eequ has been exceptional, the all-round personal support has been outstanding for us, our families and our providers. The ever-growing functionality and reporting features provide us with accurate data to make informed decisions, which supports the growth of our HAF programme
The team at Eequ have been incredible. They have provided 1-to-1 support for parents and providers and have continually developed great new features to tailor the platform to the specific needs of the HAF programme.
Using Eequ was a game changer for us, especially in having an automatic system for checking eligible families. Eequ is also set up to collect data for the purpose of reporting back to the DfE. The Eequ team offer great support for providers and parents using the system, as well as responding to the needs of the Local Authority. Eequ also provides an inclusive process for system development alongside other Local Authorities, allowing us to share our experience, and collaborate.
Eequ has allowed parents to flexibly browse the entire offer from Newham and chose a variety of sessions without having to call individual providers to make their booking. Using Eequ has saved us so many hours in completing data reports, it makes the end of HAF reports so much quicker. It also easily allows parents to cancel bookings, which in turn allows other children access to the spaces.
Eequ has been an invaluable addition to our HAF programme and we have had tons of positive feedback from our providers, especially around improving communications with their attendees. We as a team have particularly found working with Eequ very positive, with support readily available and queries or issues being answered and sorted out extremely quickly even during the busy HAF delivery periods.
Mission driven
Eequ understands HAF
The HAF programme is an inspired solution by the DfE to a complex challenge. Through the care and dedication of hundreds of local purpose-driven small businesses, it provides opportunities to develop life skills, behaviours and values that change the trajectory of children's lives. These activities relieve the pressure on working families and combat the dangers of excess digital time on children's mental health by providing safe, social environments for children to play. Children, families, schools and businesses all benefit from the funding and communities grow stronger at each delivery.

However, we still have work to do. The first problem we are tackling is engagement. Our data tells us that councils are averaging 15% take up from their core FSM children.

Avida Hancock
— Eequ founder
A technology partner for councils
Fastest improving platform
Our councils work together to create a road map and release dozens of features and improvements each year.
Battle tested reliability
Our platform operates with 99.99% uptime and handles hundreds of thousands of bookings.
Outstanding support
Our team works one-to-one with providers and councils making sure there is always a human to talk to.
Rock solid security
One transparent, central and secure process for providers and council to manage sensitive HAF data.
A straight forward business case
We make your procurement simple
Complete procurement in 2 weeks
Self-serve and one-to-one onboarding for providers
Go live for bookings 4 weeks from today
We provide you with templates to build a business case and delight your IT governance and Data Security officer. Our councils share their procurement best practices with you and welcome you to their collaborative network.